If you are a startup or entrepreneur and want to make an app that shows what celebrity you look like or find the best celebrity look-alike apps, this post is for you. It comprises some of the application's highlighting elements.
Every one of us has a celebrity crush on whom we can never get sufficient. Celebrity look alike apps, which employ face recognition technology to make you look like your favourite celebrities, are gaining popularity among today's youth.
If you're wondering what celebrity I look like, simply upload your photo to the app and use the appropriate filters to see who you resemble.
Even in 2022, these user-friendly apps are gaining traction, and there are currently a number of celebrity twin apps available for both Android and iOS.
It could be their most famous line, a single behaviour, or even their appearance. Social media platforms such as Instagram and TikTok encourage these behaviours with numerous features such as reels, filters, and so on.
You can use the mobile applications listed below to determine how similar your facial features are to those of celebrities. We will cover extensive information about celebrity look similar app solutions in better and easier language compatibility.
We will go over in-depth information about celebrity look alike apps solutions that are better and easier to use in multiple languages.
Are you wondering to know where to find celebrity look alike apps in 2022?
We have compiled a list of the most recent and best celebrity look-alike apps in 2022, along with inspiring features that entice users to download them on a large scale, whether it is for Android or iPhone.
Read Also:-Top iPhone App Development Companies in Australia
Top 5 Celebrity Look Alike Apps
Do you want to know who my celebrity lookalike is? Find your celeb look alikes app in the table below, which includes features, play store, and app store links to make app downloads easier.
To answer your question about finding a celebrity lookalike app. Check out our list of the best celebrity look alike apps below.
1.) Star By Face
Star By Face is not like other celebrity look-alike mobile applications. Rather than taking selfies and searching for your celebrity look-alike, you must upload your shot and the mobile app will modify it to look like a star face.
The machine learning function recognises your face expression and displays the appropriate outcome. What I like best about Star By Face is that it is entirely safe and secure. Your photos are never saved in the mobile app.
When it displays the desired results, it will automatically remove all of the photos. This smartphone application, like Celebs, is social media compatible; you can easily post your results on various social networking platforms.
You Must Try Features of Star by Face
Thousands of celebrity faces are stored in a database.
For accurate results, machine learning combined facial recognition elements.
The easiest-to-use UI.
Results in HD quality celebrity look-alikes.
it's Available On
2.) Gradient
The gradient is the best celebrity look-alike smartphone app available due of its great features and flawless user experience. This smartphone app includes AI and beautifying technologies that give consumers with reliable results.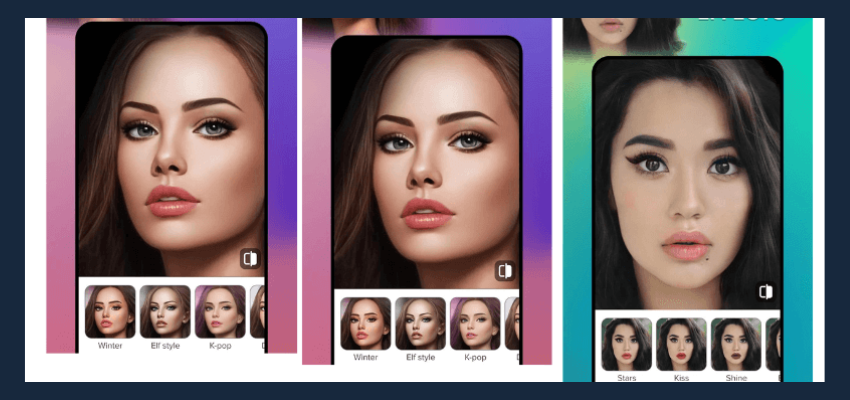 This mobile application can help you find celebrity doppelgangers. Additionally, the photo editing features improve the user experience. The most astounding aspect of this smartphone software is that, despite its wonderful extra features, it never loses sight of its main purpose of producing celebrity look-alike results.
Key Faetures
An artificial intelligence-powered photo application with celebrity look-alike features.
AI portrait solutions based on the user's image/photo A stunning hair collaging tool allows you to create a variety of hairstyles and colors.
A plethora of built-in cosmetic features improves the user experience.
Create your own beauty feature and share it with other users.
Using the skin tone tool, you can change your skin tone to meet your needs.
Discover your most like cartoon character using the AI-powered cartoon function.
Make your own blurred background portrait.
With the beauty score estimation feature, you may find out what your beauty score is.
Available On
3.) Celebs
Another well-known celebrity look-alike mobile app in this category is the Celebs app. This app uses machine learning to identify users' closest celebrity look-alikes.
In addition to AI algorithms, this smartphone application makes use of machine learning technology to give the most accurate look-alike results.
This smartphone application's facial recognition feature helps visitors to use it more frequently.
To provide realistic features, the facial recognition feature analyses users' expressions and emotions. This smartphone application also alters the user's photograph to look just like their celebrity doppelganger.
One of the reasons why lots of people like this smartphone app is that it offers reliable results for free. There are no subscription fees to discover your celebrity twin.
Celeb Must-Try Features
The images made by artificial intelligence are just beautiful.
It is free and available to the general public.
Users can use the app to identify a celebrity match who looks just like them.
A great function for finding your doppelganger animal.
compatibility with social media
There are no subscription fees.
Available On
Read Also:- Get a Complete crazy princess renia spoiler
4) My Replica
My Replica is more than simply a celebrity look-alike mobile app. This mobile application allows users to professionally edit their images. This mobile application compares your photo to a large collection of every famous person who has ever existed, including actors, singers, players, scientists, mathematicians, and many others.
You may edit your final images using numerous built-in tools and post them on multiple social networking networks such as Snapchat, Twitter, Instagram, and Facebook, among others.
Must-Try Replica Features
Find your most resembling celebrity.
The accurate feature is provided by facial recognition technology.
Creating high-quality results.
Professional photo editing functionality.
Results that are both accurate and of high quality.
Database of celebrities, including actors, musicians, athletes, historical figures, and many more.
Available On
Android
iOS
5) Y-Star
The popularity of Y-Star is growing because it allows users to instantly transform their images into celebrity faces. This mobile application provides an easy user experience by gathering face data with a mobile phone's front camera and accurately generating the results.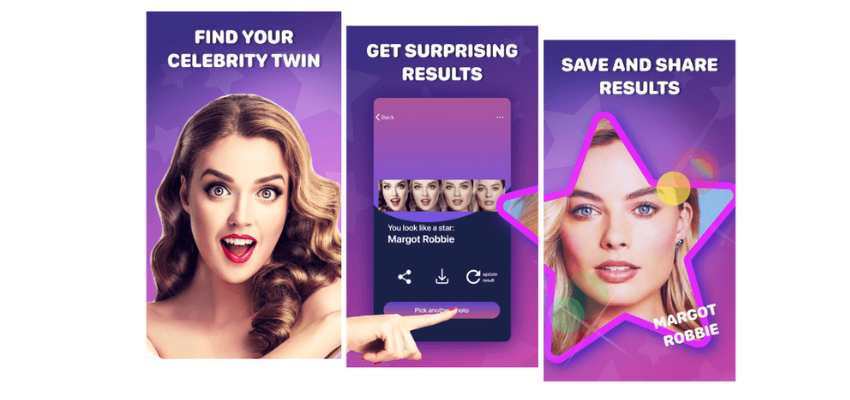 This smartphone application requires very little user effort and offers correct results automatically. This smartphone application might be your go-to app whenever you wish to change your celebrity image. When you find your star look-alike, this is a must-try mobile application.
Y-star Must-Try Features
Front-camera data is used to generate results automatically.
Results that are both accurate and of high quality.
Photo generation in high definition.
To develop accurate celebrity look-alike faces, facial point identification is used.
Available On
How Do Celebrity Look Alike Apps Make Money?
The first question that arises after deciding to develop an app is, "How do apps make money?" The revenue model for celebrity look-alike apps is primarily determined by important factors such as whether the app is free or paid, the number of features it offers, and the functionalities it offers. Here are some examples of how free celebrity look alike apps can earn money:
Advertising
In general, including an advertisement in a free app has become almost a requirement. According to a recent survey, approximately 280 billion dollars will be spent on mobile advertising by the end of 2020.
A celebrity match application owner's primary role is to display their commercials within the application. They can also choose affiliate marketing and easily get paid from third-party networks.
When a user downloads the advertised app, the organisation is compensated for each time an ad is displayed, per-click on add, and other factors. This, in turn, provides an optimal solution for generating revenue from developed mobile apps.
Subscription
One method that many application publishers can use is to select the best content to provide to customers for free for a limited time.
Many celebrities are included in the paid version of celebrity look-alike apps. If the user wants to use that celebrity as they resemble, they must pay a fee.
Subscriptions are typically offered for videos, audios, tutorials, or other cloud services that are widely used in the market. As a result, the application must include some informative content in order to increase revenue.
In-App Purchases
The easiest way to generate revenue is to incorporate in-app purchases into the application. This facilitates the sale of virtual items directly from the application developed.
Because they are mostly involved in digital money, celebrity look-alike app publishers typically use in-App purchases. They charge for the use of celebrity faces in terms of special features and collections that attract users in a more impressive and innovative manner.
Sponsership
This method of advertising is yet another way to profit from the mobile app. Before attempting this method, ensure that your application receives daily user traffic. Then you'll need to connect with other businesses in the same industry. To get into the specifics of how to monetize your apps through sponsorship, there are two options.
The total revenue should be divided equally.
Fees for monthly sponsorship
Some well-known brands that use sponsorship ad methods to generate revenue include Subway and Marriott.
Conclusion
Other than these, there are several celebrity look-alike mobile applications. Any of them will help you find your celebrity twin. However, each of them has something unique to that particular mobile app. My Replica offers a unique database collection, Y-Star has facial point recognition, Star By Face gives exceptional privacy and security to user data, Celebs allows you to identify animal look-alike faces, and Gradient generates cartoon characters of your face.
This list may go on forever. But you can't download every mobile app to check out these unique features, can you? But there is something you can do. You can contact our mobile app developers to develop a mobile application.
Based on your needs, we will combine all of these elements into a single mobile application. Please contact us right away with your needs.