if Are you looking for a top mobile app development company in USA that can provide end-to-end app development services? You are right Place
In 2019, app stores received a record 204 billion app downloads.
There will be about 7 billion mobile users worldwide by 2021.
Mobile app downloads are expected to reach 258 billion by 2023.
Without a doubt, the mobile app industry is thriving. If the numbers above aren't convincing enough, consider the following. By 2023, revenue from mobile app downloads and in-app purchases is expected to reach $581.9 billion.
The market for apps is expanding rapidly, from developing product-related apps to mobile games and on-demand app services. Mobile app developers in  United States are paid on a daily basis, so it is worthwhile to hire one for your needs.
There are over 7000 mobile app development companies in the USA that specialize in developing mobile apps for businesses.
Furthermore, there are numerous business benefits to developing a mobile app. The following are the top functional and marketing benefits of business mobile applications:
Direct Communication
Geo-Targeting Marketing
Increased Recognition
Better Customer Loyalty
Website Creates Awareness And The App Makes The Sale
Improved Customer Engagement
Boosts Brand Recognition
Improved visibility
However, you know that there are multiple mobile app development companies in usa, making it all the more difficult to select the best mobile app development company to help you in going mobile.
The top mobile app development companies in USA listed below have been chosen based on the following criteria:
Quality of Work and Acceptable Prices
Google's Organic Ranking
Review and Ratings on Clutch
Client Testimonials
Annual Cumulative Growth Rate 
Here's a brief overview of the Top  Mobile App Development Companies in USA
1.)

Arka Softwares
Arka Softwares is an ISO 9001:2015 certified and industry-leading web and mobile development solution provider company with 100+ passionate developers and designers, based in Jaipur, India, having offices in, the USA, UK, and Australia.
We have been helping our consumer-oriented clients to drive business with our innovation-driven and contemporary web and mobile app solutions since our establishment in 2010.
2010
51 – 200
$5000+
$20 – $40 / hr

United States

Facebook: https://www.facebook.com/arkasoftwares
Twitter: https://twitter.com/softwaresarka
LinkedIn: https://www.linkedin.com/company/arka-softwares-&-outsourcing
2.) Messapps 
Messapps is a full-service app development company in USA that provides app development, design, and consulting services for those who want to be successful. Based in New York. We are a unique blend of creative designers, tech-savvy developers, and awesome project managers.
By designing & developing innovative apps, and marketing the hell out of them, we create the greatest appreneurs the world has ever seen. Even the most groundbreaking ideas need careful planning and strategy implementation. Together with you, we'll jump into your industry, brainstorm, and mind map your idea to develop it into a one-of-a-kind product.
2013
10 – 49
$50,000+
 $100 – $149 / hr
 United States
Facebook:
Twitter:
LinkedIn:
3.) Silicon IT Hub Pvt Ltd 
Silicon IT Hub is a future-ready Mobile App Development Company with a vision to drive the technology revolution. The company has more than 150 techno-geeks who have delivered numerous mobile and web apps to more than 500 clients globally.
Irrespective of the business size, Silicon IT Hub is a one-stop solution for any customized software needs. They are committed to delivering a complete range of tailor-made IT services that include modern technologies such as IoT, Cloud computing, Big data, AI, Blockchain, and Machine Learning.
Phone No: +1 (774) 435 1060 (USA)
Employees: 200+
Location: USA
1201 North Market Street Suite 111, Wilmington, DE 19801.
Years of Industry Experience: 21+Average
Hourly Rate: $25 – $49
4.) Rightpoint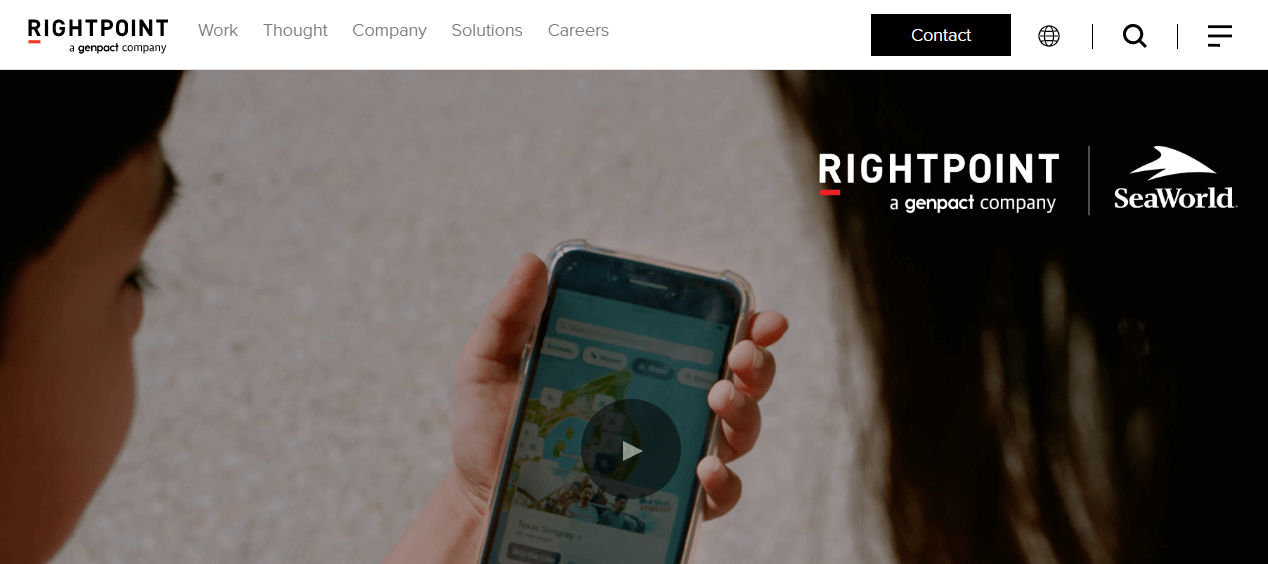 Rightpoint is an independent customer experience agency with technology at its core. We create impactful digital experiences driven by insight, strategy, design, and technology to help clients succeed at the speed of innovation.
With the recent integration of Raizlabs, Rightpoint now offers a deep foundation in designing and delivering mobile apps with thoughtful, technological solutions that strengthen how companies meet customer expectations in today's mobile-first world.
Rightpoint serves more than 250 Fortune 1,000 companies, has been named one of Crain's 50 Fastest Growing Companies in Chicago for four consecutive years and has 450 employees across 10 offices
2007
200 – 500
$50,000+
$150 – $199 / hr
Chicago, IL
5.) ScienceSoft 
ScienceSoft is a one-stop platform for all your software development needs. Whether you are looking forward to developing custom software or avail of enterprise solutions, their team of developers, along with partnered companies strive towards excellence.
Their clientele includes companies like Walmart, eBay, NASA, IBM, and so on. They have built enterprises in CRM, eCommerce, Data Analytics, and Information Security. They started small and focused on developing based on a unique technology, namely, AI, and now they incorporate more technologies like Machine Learning, Big Data, the Internet of Things, AR/VR, and Computer Vision.
1989
250 – 999
Undisclosed
$50 – $99 / hr
United States
6.) Zco 
Zco, the best mobile app development company has been functional since the year 1989. The types of products that Zco creates are generally top of the line, clear, consistent and attractive and its long-time survival has made it one of the most sought-after successful agencies for application development.
Their expertise in this field and more than the efficient team have been handpicked for multiple specialties.
1989
250 – 999
$10,000+
$25 – $49 / hr
United States
7.)  Intellectsoft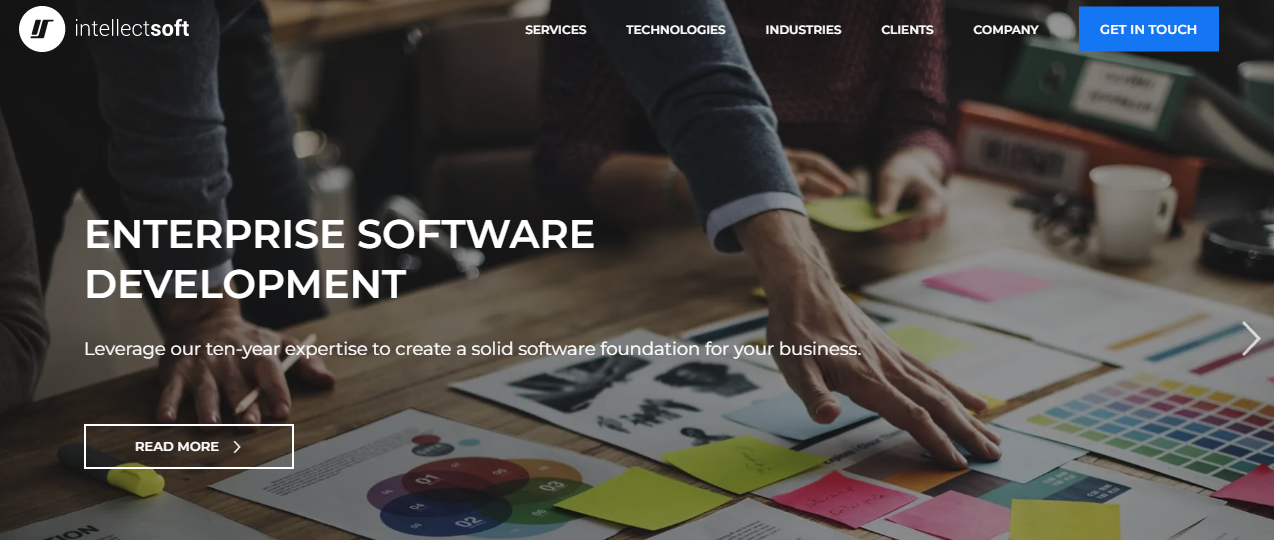 Intellectsoft is a boutique software development company and digital transformation consultancy that provides cutting-edge business solutions to its clients. Intellectsoft has helped Fortune 500 companies and next-generation start-ups to untangle the modern-age complex issues.
The software company has evolved as the most reliable and trustworthy visionary platform. Intellectsoft, with its team of dedicated developers, has partnered with world-class clients by providing extraordinary services.
2007
250 – 999
$50,000+
$25 – $49 / hr
New York, NY
8.)  360 Degree Technosoft 
360 Degree Technosoft has a 360 Degree approach to find the solutions of any problems faced by our clients. We always try to mitigate software problems to the maximum.
Our punctual response to provide solutions to the client's problems has always been noteworthy, and we tend to keep it the same way forever and we will try and attempt to fix any problems faced by our clients.
Following the latest technological trends including the latest software's and services has always been our maxim to provide the best quality and assurances to our clients.
2010
11 – 50
$5,000+
   < $25 / hr
United States
9.) Peerbits – Your Digital Envisioneer
Peerbits is a global mobile app development company with its presence in six countries; India, the USA, Canada, Saudi Arabia, UAE, and Colombia.
With the holistic aim to provide innovative mobility solutions, we, at Peerbits offer a spectrum of custom mobile app development ranging from enterprise mobility solutions to startup apps, on-demand mobile apps, and healthcare mobility solutions.
It is the excellence blended with the sheer dedication that sets us apart from the rest in the industry. Our expertise lies in tailoring the mobile applications that fit our clients.
2011
51 – 250
$5000+
Up to $25 / hr
United States
10.)  Semidot Infotech
SemiDot is a top-rated Mobile App & Website development company in the USA & India. Our ideology is to excel in what we provide as custom services, tailored specifically for each of our client's needs.
We strongly believe in the client's first approach and will prioritize to develop your application in the latest technology, and in the least possible time. What makes SemiDot infotech different isn't the 500+ successful applications that we delivered since our inception, it's how happy each of our clients was, with what we delivered.
2011
50 – 100
$1000+
< $25 / hr
United States