If you're searching for an app development cost UK then you've come to the right place. The data for iOS, Android, and Cross Platform support claims that the UK is a "powerhouse" of the worldwide app development market.
So Now How much does app development cost the UK
Whatever your ambition, app development cost estimation makes sense even though each company has a strict budget for its development. For instance, the app development cost UK ranges from £15,000 to £10,000.
It's only a range, and there are many factors to consider when calculating how much it will cost to build an app in the UK. For instance, paying £58,337 a year to hire a mobile app developer in London. At the same time, a Bristol developer might demand £45,498.
As a result, the cost of development will vary based on the location.
Top Things impacting App Development cost UK
Which factors affect the cost of an app?
Platforms: Android (Google Play) vs iOS (App Store) and Hybrid vs Native.
Ongoing support, maintenance & continuous optimization.
Functionality, Features, and complexity.
Team size and experience of your development company.
Platform-based Mobile App Development Costs: Android vs. iOS
App Development cost UK can vary depending on the platform you use. For example, creating an Android or iOS app separately will cost less than creating two separate native apps.
In other words, targeting two platforms at the same time will necessitate more effort and resources. At the same time, developing a cross-platform application with a shared codebase that targets both platforms can be cost effective.
Native apps, on the other hand, have advantages due to OS-specific capabilities. So, which approach to take, native or cross-platform, will be determined by the needs of your project.
The average cost of developing a mobile app in various regions around the world, broken down by platform.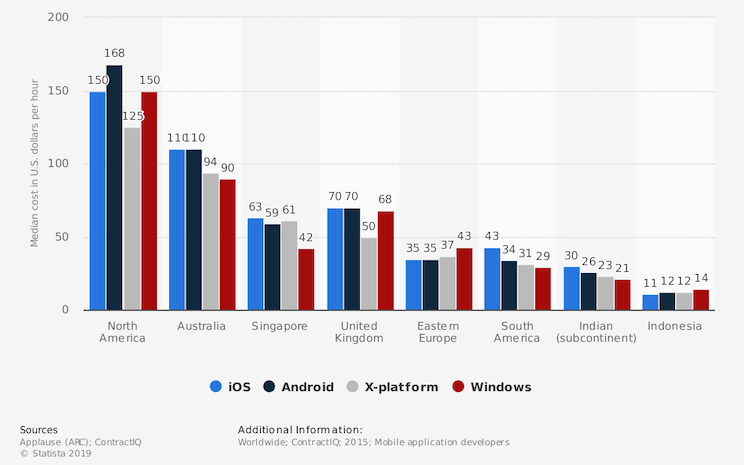 Image Credit:- Statista
The cost of development is affected by the type, size, and complexity of features as well as the platform on which the application is developed.
App Development Features' Types, Sizes, and Complexity
Through its features, an application attempts to alleviate the pain points of customers. Consider Netflix's show recommendations or Spotify's personalised playlists. These are the features that will make you stand out! Applications vary depending on the type of business model.
Because complex features require more time to develop, the cost is higher. Complex features, such as advanced search, will cost you more if you hire an app developer on an hourly/monthly basis. Simultaneously, a simple login feature will require less effort and time, resulting in lower costs.
It's time to Hire Mobile App Developers once you've decided which platform and feature requirements you want to target!
How much does it cost to hire a developer?
Whether you want to start from scratch or improve an existing programme, you'll need a skilled developer to get the job done right. The following factors influence the cost of hiring an app developer in UK.
If you want to develop an app for a native platform, you'll need to hire a developer who can design the codebase first. It is important to remember, however, that developing for Android and iOS will require additional development time and will increase the cost of mobile app development.
Hiring at mobile app developer Easts ranges from $28 to $60 per hour. The average hourly wage for an 'app developer' is $40.
In France, the cost of hiring a mobile app developer ranges between $30 and $60 per hour. The average hourly rate is $35.
The app developer market in the UK
Revenues in the UK app developer market are expected to exceed £31 billion by 2025, and the economy will be worth more than £30 billion by 2030, according to Vision Mobile.
App developers can be found all over the United Kingdom, but the majority of them are concentrated in and around London. 31% of its 8000 app-development-related companies (roughly a fifth of all European app development agencies) are located in the capital, with the remaining 25% concentrated in the city's south-east.
These are estimated to employ 380,000 people collectively (though not all of them are developers – this includes designers, admin and marketing people involved in the app industry.)
With all indications that the industry is expanding, what kind of costs can you anticipate for developing a mobile application in the UK?
Read Also:- Flutter vs. React Native: Which one is better?
Top 5 famous apps cost with features
1. Uber App
You must make an app for drivers, an app for clients, user management, and a backend.
The entire process of designing and building an app like Uber will cost you between £200,000 and £500,000 (for iOS and Android) and will take 5 to 7 months for an MVP version, which provides a great platform for mobile app development in the long run.
2. TikTok App
According to research, the cost of developing an application ranges between £80K and £100K. A music license, on the other hand, would be an additional cost.
TikTok is one of the media and entertainment apps that could cost between £128,000 and £248,000 to develop due to the integration of multiple sets of features and services. Furthermore, it takes approximately 985 hours to complete.
3. Instagram App
The most important aspect of developing an app is its unique concept, which attracts many people. If you want to be an entrepreneur, you must first analyse the needs of your target audience and then create a vision to meet those needs.
To begin, an app like Instagram could cost up to £60,000.00. The fee structure shown above may vary depending on the developer you hire.
In the United Kingdom, the minimum fee for a developer is between £40 and £55 per hour, which is both affordable and high-quality.
4. Tinder App
The features of the Tinder app indicate that a similar app would cost between £40,000 and £50,000 to design. It should also be noted that this is only an estimate. Several factors can influence the cost of developing a mobile app.
5. Just Eat
With over 300,000 daily requests, Just Eat is Europe's leading online takeout ordering service. Each stage will cost between £4,000 and £15,000, depending on the application's features and multifaceted quality.
How can Intelivita help you in getting started with app development?
Are you ready to take the plunge into a new business with a mobile app? Look no further, Intelivita can assist you in leveraging technological expertise and ensuring top app quality. We've created hundreds of mobile apps with various features at a low cost.
We begin by learning about your company's goals and initiatives. Following that, we create a comprehensive plan for developing your mobile app, as well as a roadmap. We will provide you with the total budget for app development once we have finalised the roadmap and features.
Both major platforms have accredited our application development team (iOS & Android). Design native and cross-platform applications that can serve as the best solution for almost any project. We are experts in the development of a wide range of mobile apps for your company, with a strong emphasis on user experience, design, and commitment to excellence.
Top UK App Development Companies:
Arka Softwares:- Arka Softwares is a top mobile app development company in Uk
NMG Technologies is an award-winning mobile, web, and software app development company.
Emizen Tech is a mobile app development firm.
The Distance:- The Distance is a leading mobile app development company in the United Kingdom.
Groovy Web:- Groovy Web  World-Class Digital Solutions Delivered on Time and on Budget
eleks:- eleks – Your Technology Partner for Market-Leading Software Innovation
Tech Exactly:– Tech Exactly we transform your concepts into cutting-edge apps and immersive mobile experiences.
3 Sided Cube:- 3 Sided Cube – LET'S BUILD TECH FOR GOOD Light IT – Reliable technical partner for over 500 companies since 2006.
App Maisters:- App Maisters is a trusted digital transformation partner for startups, growing businesses, and enterprises.
Rantmedia:- Rantmedia Create, Make, and Innovate.
Mtoag Technologies:– Mtoag Technologies is a company that creates technology for today's mobile generation.
Apadmi:- Apadmi Constantly Mobile
TopDevs:- TopDevs – Since 2009, we have been developing iOS and Android apps.
Promatics:- Promatics is a highly regarded mobile app development company.
Top 5 UK App Development Companies, by Twitter Followers
| | |
| --- | --- |
| Company | Twitter Followers |
| Fueled |  6.8k+ |
| Brightec | 5.1k+ |
| Waracle | 3.7k+ |
| Adapmi | 3.4k+ |
| Mubaloo | 2.7k+ |
Source: Twitter
Conclusion
If you're wondering, "how much does it cost to build an app?Consider the various factors discussed above to help you get started in the right direction.
Because there are so many variables that influence the price, it's always a good idea to do some research. Discovering what each app developer is capable of and whether their service meets your expectations can help you avoid losing money on your app investment.
To summarise, there is no exact cost for developing a mobile app because the costs are influenced by numerous variables. Contact the Intelivita team to learn more about the estimating process. They have a wealth of knowledge and are eager to assist you.
FAQs for App Development Cost